March 3rd, 2010 by dom , 1 Comment
Print This Post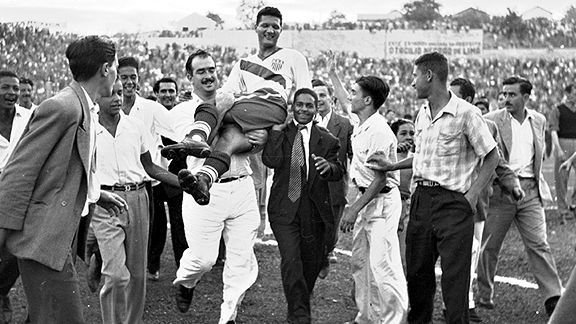 With 2010 World Cup just 99 days away, ESPN has reopened an old topic about Joe Gaetjens the hero during the US victory over England in the 1950 World Cup. The article tries into kill all the misconceptions that were portrayed about Joe Gaetjens and show him as he truly was. In the movie "Game of Their Lives", he was portrayed as a voodoo fanatic when he was actually Catholic. There are mangled facts about Gaetjens family origins and the English media trying to call his goal a fluke as well as his mysterious demise.

Joe Gaetjens was not Belgian. And his father wasn't, either.

His name sounded Flemish. The Flemings are the Dutch-speaking half of Belgium. Considering the tidal wave of Flemish immigrants that washed over North America in the 19th century, the assumption that Gaetjens was of Belgian descent held credence. But Gaetjens, in spite of the '-jens' suffix, is not a common name in Flanders.

Genealogic research shows that Joe's great-grandfather, Thomas, migrated to Haiti from Bremen, in northern Germany, where the Gaetjens name is rather common. (A close variation on Gaetjens — Gätjens — is also oft-heard just north of there, over the Danish border.) Thomas arrived in Haiti shortly after 1825 (when France officially recognized Haiti's independence) and married Leonie Dejoie, whose father was a general and had played a part in Haiti's self-determination. That connection opened a path to prosperity for the Gaetjens family…

Joe Gaetjens did not practice voodoo.

"Absolutely not!" shouts his indignant younger sister, Mireille, reached in Puerto Rico.

"The Game of Their Lives," the 2005 movie about the historic upset, had been ludicrously inaccurate. The film made light-skinned Gaetjens, played by dark-skinned Jimmy Jean-Louis, out to be some sort of voodoo nut.

The Gaetjens family was appalled. In real life, Gaetjens was Catholic, like most Haitians, and went to church every Sunday…

After the U.S.-England game, a barrage of excuses was blasted from the England camp. It had been too hot. Travel had been strenuous. But this one would stick: Gaetjens' goal had been a lucky one.

All Americans and most English present on the scene dispute that.

Read the full article here
Here is some vintage footage from the England USA match.

Tags: 1950 World Cup, England, ESPN, Haiti, History, Joe Gaetjens, News, Soccer, Sports, USA, Videos